MacGregor, Marsali and Simons, Edmund Dorchester Abbey Tower Dorchester on Thames Oxfordshire. [Client Report] (Unpublished)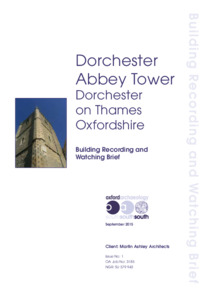 Preview
PDF




DORAB06.pdf


Download (2MB) | Preview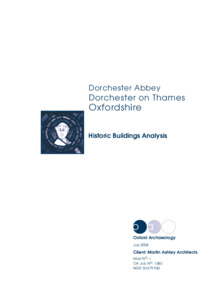 Preview
PDF




DORAB02_Report.pdf


Download (22MB) | Preview
Abstract
2002 Oxford Archaeology (OA) carried out archaeological and
historical analysis of Dorchester Abbey Church, Dorchester
on Thames, Oxfordshire. This is the only surviving
substantially intact medieval abbey church in England, its
survival is due to it being retained as a parish church after the reformation. It lies on the site of Dorchester Cathedral a dissolved diocese which once stretched as far as what is now Lincolnshire. The site remained important after it ceased to be a cathedral and the building was enlarged and enhanced throughout the medieval and post medieval periods.
This project was only a part of a much wider programme of
investigation carried out my several organisations and
individuals. Below ground archaeological work was
previously undertaken by Graham Keevill, wall paintings
were analyised and conserved by Ann Ballyntyne and
Warwick Rodwell conducted historical research. OA
investigation and recording was concentrated on areas of
above-ground historic fabric undergoing disturbance during
the restoration, these areas included the roof, some areas of walling and the floor of the People's Chapel. A survey of
those parts of the abbey interior affected by restoration work was also carried out.
Areas of wall were stripped of plaster in Saint Birinus's
Chapel, The People's Chapel and the north wall of the Nave.
These revealed different types of construction all of which
appeared to confirm the supposed dates of each wall. Some
areas of roof structure required extensive restoration and
these were examined by OA. Dendochronological analyis
showed that the (seemingly 19th century) roof of the nave was partially built from reused 17th century timbers. An analysis of the flooring of the abbey revealed that the church has been re- floored a number of times but this has been piecemeal and that some areas of early flooring may remain.
2006 A watching brief has been carried out by Oxford Archaeology (OA) during works to the inside of the north-western tower of Dorchester Abbey (NGR SU 579 943). This work has formed an addendum to a wider report on the Abbey prepared by OA on 30 June 2004. The work was commissioned by Martin Ashley Architects. No significant archaeology was
observed during the course of the watching brief.
During the watching brief, the groundworks inside the north-western tower of Dorchester
Abbey were observed and monitored, with a substantial number of photographs taken. The
destruction of the previous interior of the tower on the ground floor and the subsequent
raising of wooden walls and insertion of two new floors within the tower were, also,
observed.
Dorchester Abbey is a nationally significant building, because it is the only substantially
intact medieval abbey remaining in England. It is believed that the good preservation is due
to the abbey being used as a parish church, after the reformation in 1536.
Actions (login required)