Fairbairn, James and White, Joshua (2022) Bronze Age Cremations and Early Medieval Settlement Remains at Church Street, Langford, Bedfordshire. [Client Report] (Unpublished)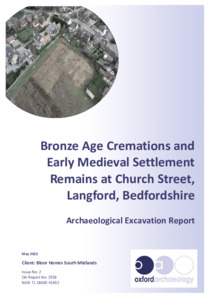 Preview
PDF




OAE_Report_2558_v2_XBDCSLANL_Final_ approvedLR.pdf


Available under License Creative Commons Attribution Share Alike.
Download (11MB) | Preview
Abstract
Between 1st March and 9th April 2021, Oxford Archaeology East (OA East) undertook an archaeological excavation at land to the west of Church Street in Langford, Bedfordshire.
This work revealed a group of four cremation pits, one of which has been radiocarbon dated to the Middle to Late Bronze Age period, along with a series of Saxo-Norman to early high medieval settlement remains. The medieval remains consisted of four distinct phases of boundary ditches, extensively remodelled across a relatively short period of time between the mid-11th to mid-13th centuries. Several discrete postholes and pits also dating to this period were identified, along with the remains of a contemporary, possibly rectangular, post-built structure, which was partially revealed in the north of the site adjacent to a former lane leading from Church Street. An assemblage of high to late medieval metalwork was also recovered from the subsoil, which includes some high-status objects.
The continual reorganisation of the site across the mid-11th to mid-13th centuries is significant, and points towards frequent changes in land use and possibly land ownership during this period. The excavated remains suggest that this shift may have been from an exclusively agricultural focus to an arrangement which integrated both agriculture and domestic occupation.
This settlement activity appears to have been cleared from the site at some point in the early high medieval period. It is possible that this clearance (or the later phases of reorganisation) may coincide with the establishment of the Knights Templar at Langford Rectory, who were gifted 104 acres of land and a series of properties in the village in AD 1142.
The results of this investigation have enriched current understanding of the prehistoric environs of the Lower Ivel Clay Valley and have significantly informed upon the development of settlement in Langford during the medieval period.
Item Type:
Client Report
Uncontrolled Keywords:
Bedfordshire, bedfordshire, Langford, langford, Excavation, excavation, archaeological excavation, Bronze Age, bronze age, Early Medieval, early medieval, Cremation, cremation, cremated remains, HSR, hsr, human remains, Bronze Age cremation, bronze age cremation, unurned cremation, structure, post hole, post holes, early medieval structure, post-built structure, early medieval post-built structure, ditch, boundary ditch, early medieval boundary ditch, lane, pin-beater, worked bone, animal bone, animal bones, animal remains, bones, bone, pottery, Pottery, pot, ceramic, sherd, vessel, Early Medieval pottery, early medieval pottery, Medieval pottery, medieval pottery, stirrup terminal, Anglo-Scandinavian zoomorphic stirrup terminal, 2558, report 2558, Report 2558, OAE report 2558
Subjects:
Geographical Areas > English Counties > Bedfordshire
Period > UK Periods > Bronze Age 2500 - 700 BC
Period > UK Periods > Early Medieval 410 - 1066 AD
Period > UK Periods > Medieval 1066 - 1540 AD
Period > UK Periods > Post Medieval 1540 - 1901 AD
Divisions:
Oxford Archaeology East
Depositing User:

Hamilton

Date Deposited:
13 Jul 2022 13:15
Last Modified:
13 Jul 2022 13:15
URI:
http://eprints.oxfordarchaeology.com/id/eprint/6425
Actions (login required)