Newell, Kate and Munby, Julian Oxford Exeter College. [Client Report] (Unpublished)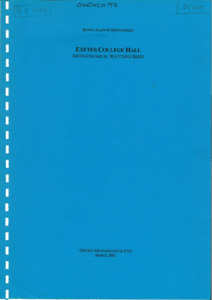 Preview
PDF




OXEXCO97.pdf


Download (1MB) | Preview
Abstract
A Watching Brief was carried out during the creation of a nevv opening in the screens passage
of Exeter College between the Dining Hall and the Servery. On the east síde of the opening a
layer of haired lime plaster was removed which was attached to the wall on a sub-structure of
lath and stud work. Under this wood work an earlier wall plaster surface was found applied
directly to the faced and squared limestone blocks of the east wall face. The skirting area of
this wall face was painted black but no other evidence for wall painting was observed. The
west side of the entrance had been refoced with a thick layer of modern cement. Under this
layer was found a mixture of two older plaster finishes. To the north of this area some remains
of a painted surface survived with glimpses of a two-tone brown design of a buff under layer
with dark brown brush strokes on top. These plaster layers were applied directly onto the
coursed rubble limestone wall The wall was designed to carry the load of a upperfloor to the
west. A ledge 18 cm wide is seen at a height of 2 m above canent floor level, and this held the joists of the first floor.
Observations made at the same time on the Hall roof showed that the Jacobeøn roof (possibly based on that of St George's Hall at Windsor Castle) had been altered and gothicised in the 19th century.
Actions (login required)