Gill, Jonathan St Michael and All Angels Church Letcombe Bassett Oxfordshire. [Client Report] (Unpublished)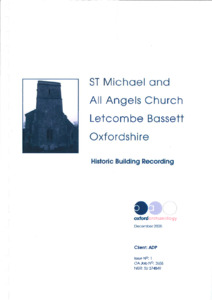 Preview
PDF




LBSM05.pdf


Download (3MB) | Preview
Abstract
St Michael and All Angels is an attractive 12th-century church with a number of later alterations and the current investigation has contributed significanþ to our understanding of the historical development of the building. The structure of both the walls and roof has been
obscured for much of the 20th century by later render and cladding but they have been temporarily exposed in the current restoration and the work has confirmed some assumptions about the building while casting doubt on others.
The original church appears to have had a broadly similar footprint to that which survives today and the same primary construction (roughly coursed flint with an ochre mortar) has been found in patches relatively widely in the chancel and nave. The most substantially surviving
primary wall is the north side of the chancel whereas due to the number of insertions in the
nave wall only small areas of primary wall remain. In addition patches of what appears to be identical mortar have been found in the lower parts of the tower suggesting that this may also be original (albeit with later alterations).
The Victoria County History (VCH) has previously speculated that the chancel may have been
extended eastward and although the VCH concludes that this is unlikely the current
investigation has clearly shown that the construction of the eastern 3m of the chancel is quite
dffirent to the primary construction and that ít must have been extended. The VCH and
Pevsner both date the window in the east wall to the later 13th century and as the current
investigation has shown that the window is contemporary with the extension this provides a
possible date for the extension. Removal of tiles from the chancel roof has revealed that the
current roof structure is of a single date for its full length both the primary chancel and its
extension) and that this roof is old þotentially dating to the extension of the chancel).
Other than the extension of the chancel (andpossible late l3th-century addition of the tower)
the footprint of the building was little altered from its original construction until the second half
of the 19th century when the church was restored by Butterfield and these works íncluded the
addition of a south aisle, a vestry and a porch. The current works have revealed the
construction of each of these elements. The work has also revealed that the walls of the nave
were originally the søme height as the chancel and that it would have had a steeply pitched roof
similar to that which survives above the chancel.
Actions (login required)