Gill, Jonathan Longwick Mill. [Client Report] (Unpublished)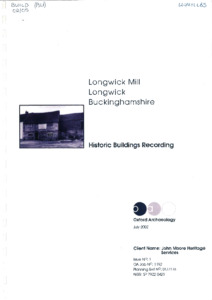 Preview
PDF




LWMILL02.pdf


Download (4MB) | Preview
Abstract
Oxford Archaeologt (OA) carried out a programme of historic building recording and analysis as part of a wider programme of archaeological investigation at Longwick Mill
near Princes Risborough in Buckinghamshire. The building appears to have been originally built in the early I8th century as a paper mill but this closed in c.1830 and by
1862 it was operating as a corn mill. The location and general chronology of Longwick
paper mill is typical of the paper-making industry and reflects national trends.
Buckinghamshire was one of the main centres of the trade and many mills were
established in the l8th century before closing in the early 19th due to introduction of new
technology making older paper mills uneconomical.
The building divides into three distinct sections: the mill house at the north end, the mill itself to tÍte centre and an adjoining barn at the southern end. Although the current
form of the mill house largely dates to a substantial rebuilding probably in the mid 19th century this part of the building was found to incorporate the remains of two earlier
buildings probably dating to the original establishment of the paper mill in the early
18th century. Almost all of the historic gearing, machinery and other features had been
removed from the mill prior to the current works but some indication of the former
layout of the mill could be established from sorne surviving physical evidence and from
discussion with a fomer employer at the mill. The work confirmed the location and
approximøte size of the water wheel which powered the mill before being removed in
the 1960s. The southern section of the building consists of a timber-framed barn
probably re-erecting the main frame from a previous building) at first floor which
appears to have been added as a secondary addition on top of the primary groundfloor
brick walls contemporary with the main mill building.
The building is listed Grade II and is of considerable historical interest as a surviving
relic from a once important local industry. It is also of some industrial archaeological
interest but this has been significantly diminished due to the loss of the vast majority of
its machinery and workings. It is also limited by the fact that its most significant period,
while operating as a paper mill, ceased in the early 19t' century and that its conversion
to a corn mill would have removed much evidence of its use as a paper mill.
Actions (login required)