Biddulph, Edward and Poole, Cynthia and Boothroyd, John and Black, Tom Wavendon Lodge, Lower End Road, Milton Keynes Archaeological Evaluation Report and Roman Enclosures at Wavendon Lodge, Milton Keynes Excavation Report. [Client Report] (Unpublished)

Preview
PDF




WAVL19.pdf


Download (9MB) | Preview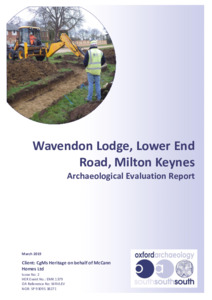 Preview
PDF




WAVL19_Evaluation_Report.pdf


Download (7MB) | Preview
Abstract
Evaluation;
In January 2019 Oxford Archaeology undertook a trial-trench evaluation at the
site of a proposed development at Wavendon Lodge, Wavendon, Milton
Keynes. The works comprised the excavation of nine trenches, each measuring
30m in length.
The southern half of the site contained a series of land management ditches,
a curvilinear gully and a couple of pits. Pottery recovered from the features
suggests three phases of activity: late Iron Age/early Roman, middle Roman
and late Roman. Though uncertain at this time, the features identified are
likely to be associated with known activity recorded to both the east and west
of the site.
Remains in the north-west corner of the site were limited to medieval and
post-medieval furrows, reflecting the agricultural use of the site.
In addition to the pottery, a small assemblage of worked flint was recovered,
but it is not considered to be indicative of prehistoric activity within the site.
Excavation
Excavation took place at Wavendon Lodge, Milton Keynes (NGR: SP 93095
38271) between May and July 2019. An area of 4400m2 was excavated,
revealing a sequence of ditched enclosures dating from the late Iron Age/early
Roman period to the late Roman period. Late Iron Age/early Roman features
comprised a small ditch, a waterhole, and an L-shaped ditch that defined the
corner of a field. In the early Roman period, an array of small ditched
enclosures was laid out on a different alignment to the earlier features. These
were probably small paddocks for livestock management and were replaced
by three more substantial ditched enclosures, laid out on the same alignment
and recutting some early Roman features. This arrangement was maintained
through the middle and late Roman period. A ditch, orientated north-south,
probably defined one side of a trackway between the enclos ures. A
penannular ditch, with an entrance on the east side, probably enclosed a
circular structure, although no internal features were found. Other features
were sparse, but included an oblong oven, possible hearths, and several pits.
Artefacts included pottery, ceramic building material, fired clay, animal bone,
stone, metal and glass artefacts, predominantly of Roman date. Several
ditches and pits were sampled for environmental evidence. The site forms the
periphery of an Iron Age – Roman settlement lying to the east on the opposite
side of Cranfield Road.
Actions (login required)