Dean, Selina (2022) Land at Windy Arbor Brow, Windy Arbor Road,Whiston, Knowsley Archaeological Evaluation Report. [Client Report] (Unpublished)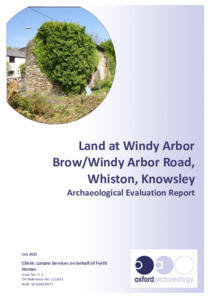 Preview
PDF




L11433_Report_V2_Compressed.pdf


Download (6MB) | Preview
Abstract
Oxford Archaeology (OA) North was commissioned by Lanpro Services on behalf of Forth Homes to undertake a trial trench evaluation and level 1/2 historic building recording at the site of a proposed residential development on land east of Windy Arbor Brow, Whiston, Merseyside (NGR: SD 4636 8973).
The work was undertaken as condition 30 of Planning Permission (planning ref. 20/00329/FUL). During consultation for the application, the archaeological advisors to Knowsley Council, Merseyside Environmental Advisory Service (MEAS), recommended that an archaeological evaluation be undertaken
comprising five trial trenches measuring 30m x 2m, as well as an historic building recording of the extant Carr Cottage outbuilding. A written scheme of investigation (WSI) was produced by Lanpro Services detailing the Local Authority's requirements for work necessary to discharge the planning
condition. OA North were subsequently commissioned to undertake the necessary fieldwork, which was carried out over two days, 28th and 29th April 2022.
Only four proposed trenches were excavated, Trench 5 was abandoned due to the presence of asbestos across the proposed trench location and the trench could not be repositioned due to asbestos being present in the wider area. In addition, Trenches 1, 2 and 3 were shortened due to the presence of trees and severe overgrowth in certain areas. The only archaeological remains found were ditches, one each in Trenches 1 and 2, most likely related to postmedieval water management.
A level 1/2 Historic England building survey was undertaken of the extant of Carr Cottage outbuilding (HER MME6283), located at the northern end of site. The outbuilding is dated to the late eighteenth century with the associated
cottage having been demolished in recent years. It was agreed prior to commencement, and as stated in the WSI, the interior was not to be accessed due to the disrepair of the building.
Actions (login required)