Mottershead, Graham (2010) Oak Colliery,Hollins Road,Oldham,Greater Manchester, Archaeological Evaluation. [Client Report] (Unpublished)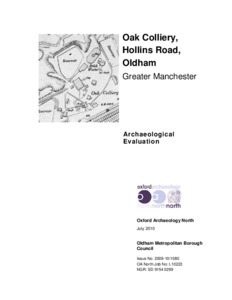 Preview
PDF




Oak Colliery Archaeological Evaluation.pdf


Download (6MB) | Preview
Abstract
Oldham Metropolitan Borough Council (OMBC) has granted outline planning permission for the erection of an Academy Secondary School on a site off Hollins Road in Oldham (centred on NGR SD 91540299), which was occupied from the midnineteenth century by one of the largest coal mines in Oldham, known as Oak Colliery. In order to secure archaeological interests, OMBC attached a condition to the planning consent that required an appropriate scheme of archaeological investigation to be carried out in advance of development to support the final design proposals. The scope of these archaeological works was specified in a brief devised by the Assistant County Archaeologist for Greater Manchester, and allowed for historical research of the site, and the excavation of targeted evaluation trenches.
In March 2010, Oxford Archaeology North (OA North) was commissioned by Oldham Metropolitan Borough Council to devise a Written Scheme of Investigation in accordance with the project brief. This proposed the excavation of 11 trenches that were targeted on the sites of structures shown on historical mapping. Following the formal approval of this Written Scheme of Investigation by the Assistant County
Archaeologist, OA North was commissioned to carry out the specified programme of works, which was undertaken during May and June 2010. The evaluation trenching revealed that well-preserved remains of archaeological interest survive in-situ across parts of the site. In particular, buried remains of a continuous-type brick kiln were encountered beyond the eastern edge of the football pitch, the remains of a boiler house and associated structures exposed beneath the southern part of the football pitch, and the remains of buildings on the pit bank of Albert Pit in the south-western part of the site. The evaluation also demonstrated that
the clearance of the former colliery in the early 1970s is likely to have been responsible for the complete destruction of remains elsewhere across the site. The current design proposals for the development of the site necessitate earth-moving works that will impact upon the buried archaeological remains. Whilst the remains encountered across the site are not considered to be of national importance, which
would merit preservation in-situ, their damage or destruction during the course of the proposed development will require an appropriate mitigation strategy to be
formulated. It is recommended that three discrete areas of the site are subject to further archaeological investigation in advance of development. The excavation would be targeted on the continuous brick kiln, the putative boiler house and
associated structures, and the pit bank of Albert Pit.
Actions (login required)