Elsworth, Dan (2002) HARDKNOTT FOREST AND GRASSGUARDS, Cumbria, Archaeological Assessment and Survey. [Client Report] (Unpublished)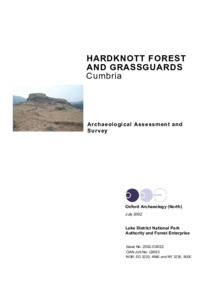 Preview
PDF




L9053_HardknottForestandGrassguards_July2202_FullRep.pdf


Download (3MB) | Preview
Abstract
A desk-based assessment and archaeological survey were undertaken in April 2002 on the study area of Grassguards and Hardknott Forest, centred on SD 220 980 and NY 230 000
(Fig 1). The work was carried out by Oxford Archaeology North (OAN) on behalf of the Lake District National Park Authority and Forest Enterprise.
The assessment comprised a desk-based survey of available documentary and cartographic sources, and highlighted the archaeological resource within and around the study area,
which is owned and managed by Forest Enterprise. In total, nine sites are recorded in the Sites and Monuments Record (SMR), of which seven are of unknown date, one is of
Roman date and the other of medieval to post-medieval date. The Roman site is a section of the road extending through Hardknott Pass, between the forts at Ambleside and Hardknott and the medieval site is a potash kiln at Hollin How (SMR 30080). The remaining seven SMR sites include two nclosures, a settlement/field system, two possible buildings, a putative fortification (SMR 1459), and a second potash kiln, which was probably of similar date to the first. Following on from the assessment, a field survey of the study area was undertaken. This identified 87 sites, of which nine were recorded in the SMR. Almost all of these are
associated with agricultural activity belonging to three settlement areas: the first centred around Castle How in the north; the second was in the area of Birks Farm; and the third was to the immediate south of Grassguards in the southern part of the study area. The character of this third settlement suggests that it pre-dated the post-medieval farms and would appear to represent non-intensive medieval settlement. There were also two sites relating to industrial activity, the potash kiln at Hollin How and a bloomery mound, both of which are probably of medieval date.
The study area is immediately to the north of Ulpha Fell, which has extensive prehistoric remains, typically in the form of cairnfields; however, within the study area only a single, small cairnfield of prehistoric character was identified.
Actions (login required)