Schofield, Peter (2008) UPLANDS INITIATIVE FIELD PROJECTS 2007-8, Snowdonia, (Bethesda) Survey Area, North Wales, Archaeological Survey Report. [Client Report] (Unpublished)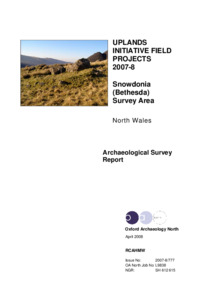 Preview
PDF




Bethesda_Rep_All.pdf


Download (4MB) | Preview
Abstract
An archaeological identification survey of the mountainous region of Snowdonia adjacent to the village of Bethesda (SH 612 615 centred) in Snowdonia, North Wales was undertaken between December 2007 and February 2008, by Oxford Archaeology North (OA North) on behalf of the Royal Commission on the Ancient and Historical Monuments of Wales (RCAHMW) as part of the Uplands Initiative. The project carried out an initial archaeological desk-based study, followed by a field identification survey for the study
area.
The survey area of Snowdonia (Bethesda) covers an area of 13.76 sqkm and consists of part of the northern flank of the north-west end of the Snowdonia massif. The area is
dominated by high peaks, including the ridges between Glyder Fawr and Carnedd y Filiast, along with the outlier Elidir Fawr. The study area consists of sloping open moorland which
rises from approximately 300m to over 800m on the highest ridges, with the moorland being fringed by semi-improved enclosure on the lower slopes.
In total, five sites were established by the desk-based study as being recorded within the HER and NMR, of which four were updated and given additional new NMR numbers. In
total, 99 new sites were identified by the field survey, representing a substantial numerical increase in the number of sites within the study area. The previously discovered sites identified in the NMR and HER were limited to a possible stock enclosure/earthwork, a house, and a group of potential stock management or domestic structures. No sites of definitively medieval or earlier date had previously been
discovered within the study area, and the present survey has not been able to add sites that are definitely earlier than post-medieval in date. There is a small collection of house
platforms and once roofed structures that may have had domestic or agricultural function scattered along the southern fringes of the study area, along with a collection of possibly transhumance-type structures or stock management structures within one defined area. In total, 97 sites have been ascribed to the post-medieval period, four sites are modern and three are of unknown date. The majority of the identified sites reflect the relatively recent exploitation of large tracts of open moorland that forms the western edge of the Snowdonia for sheepwalks. Up to 59 examples of sheepfolds and shelters were scattered across the
whole study area, demonstrating that sheep farming has been a major enterprise within the study area. The fringes of the moorland have been subject to enclosure from at least the
early post-medieval period, particularly on the southern side above Nant Peris. As well as the agricultural features, there was also some evidence for slate quarrying
consisting of discrete areas of trial mining and reservoir construction, that for the most part related to twentieth century exploitation. There was also evidence of recreational practices in the form of a collection of shooting mounds and four walkers shelters' on the summits
within the study area.
Actions (login required)