Quartermaine, Jamie (1997) SARGILL LEAD SMELTING MILL, NORTH YORKSHIRE Report on Archaeological Survey. [Client Report] (Unpublished)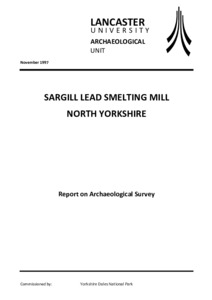 Preview
PDF




Sargillcomplete.pdf


Download (594kB) | Preview
Abstract
An archaeological survey was undertaken at Sargill Smelt Mill, North Yorkshire, during May 1997 by Lancaster University Archaeological Unit. The survey comprised a topographic plan of the immediate vicinity of the smelt mill, a plan of the main smelt mill building, elevation
drawings of all upstanding internal and external walls, a detailed gazetteer of the visible site components, and a photographic record.
The bellows for the smelting furnaces were driven by a water wheel within the smelt mill complex, which was fed by a mill race off the adjacent Sargill Beck. The original tail race was not identified, but an outlet was found immediately south of the wheel pit which led upstream into Sargill Beck.
Two hearths were identified which were of a shaft furnace type, which is distinct from the traditional low open type of hearth. This shaft type was introduced in the form of the Spanish Slag Hearth at around 1850 and the Sargill example is paralleled by one at Keld Heads smelt mill, which was built in the 1860s.
The flue extends north for about 24m from the mill buildings to a square chimney base. There is evidence of a proposed zig-zagged extension which leads up the slope from the chimney base, but this was never completed. The documentary evidence indicates that the mill was constructed in the 1840s and was out of use by 1870. The survey evidence confirms that it had a very short life. There are very limited quantities of slag visible, by comparison with other Yorkshire smelt mill sites, and the mill does not appear to have been intensively used during its short operational life.
Actions (login required)