McPhillips, Sean (2002) CLAYTON HALL, Lancashire Archaeological Evaluation and Fabric Survey. [Client Report] (Unpublished)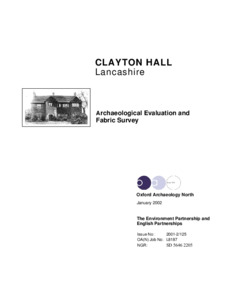 Preview
PDF




Clayton Hall - Final report.pdf


Download (4MB) | Preview
Abstract
An archaeological evaluation was carried out by Oxford Archaeology North (OAN), formerly Lancaster University Archaeological Unit, at Clayton Hall, Chorley, Lancashire (NGR SD 5646 2205), in September 2001. The site contains a moat, moated platform, feeder channels, and two fishponds, all of which are components of a Scheduled Monument (SM 13409). Within the moat is the ruined remains of the former
Clayton Hall, which was constructed in the late sixteenth or seventeenth century and was demolished in 1976. The work was commissioned by The Environment Partnership on behalf of English Partnerships, and followed an earlier archaeological feasibility study, including topographical and geophysical surveys, by West Yorkshire Archaeological Services, and an earlier programme of archaeological evaluation, by OAN, in August 2000. The earlier evaluation furnished important details of the site, but a number of questions remained, particularly with respect to the southern side of the
moat. In order to address these questions, four evaluation trenches were excavated by OAN during September 2001, placed across the projected line of the moat. Trenches
were excavated by machine down to the top of significant archaeological deposits, with manual excavation thereafter. The moat was identified in three of the trenches, and the
evaluation was able to establish the course of the moat in this southern sector. In the fourth trench, in the south-eastern section of the course of the moat, no moat or ditch
was identified; the trench was, however, approximately adjacent to a tree-lined avenue leading towards the moat, and it is believed that this was the location of an original
causeway across the moat. A programme of clearance, fabric recording, and consolidation of the demolished hall
was undertaken. The clearance excavation concentrated on the eastern and southern sides of the building, and only exposed the floor level in the central hallway, being otherwise required to expose the tops of internal walls, thus protecting the potentially fragile surfaces.
A fabric survey of the exposed plan of Clayton Hall was undertaken after site clearance. The building plan and exposed elevations were recorded and the results were subject to basic analysis. Following the fabric recording, a programme of consolidation was undertaken, which was intended to stabilise the masonry exposed by the clearance, to make the structure safe, and to protect the ruins from damage resulting from visitor pressure.
During the latter part of the consolidation programme, a further two trenches were excavated during October 2001, extending from the east wall of Clayton Hall. These
were positioned in order to investigate the foundations of the building and the potential for earlier structures on the site. They revealed the foundation of an earlier structure,
against the southern section of the east wall, but no earlier structural remains were found beneath or adjacent to the northern section of the same wall.
Actions (login required)