Phelps, Andy (2022) Former W H Shaw Pallet Works Archaeological Watching Brief and Strip, Map and Record Report. [Client Report] (Unpublished)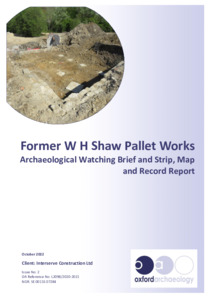 Preview
PDF




Saddleworth_Report_KB_Final.pdf


Download (23MB) | Preview
Abstract
In June 2019, Oldham Borough Council (OC) granted planning permission for the demolition of the unlisted buildings and structures at the former W H Shaw Pallets Works, Huddersfield Road, Diggle (NGR SE 00155 07284), ahead
of the construction of a new High School on the site. An historical assessment of the site had demonstrated the potential for the remains of an eighteenth century
fulling mill, known as Wrigley Mill, to be exposed at the northern end of the area. In addition, to the south it was anticipated that the remnants of the mid-nineteenth-century Dobcross Loom Works might be preserved beneath the existing concrete surface. A condition of the planning permission
therefore stipulated a requirement to undertake archaeological monitoring of the site during the clearance works to ensure an appropriate record was made
of any archaeological remains exposed. Oxford Archaeology (OA) North was commissioned to undertake this monitoring, as well as to conduct limited targeted strip, map, and record investigations of key elements, which was completed over a period of six weeks from the beginning of April 2020.
The resulting fieldwork exposed the fragmentary remains of Wrigley Mill in the anticipated location, including the near-complete footprint of its southeastern wing, its intact waterwheel pit and elements of the building's southwestern
wing, but the remainder of the building had been lost. To the south, almost nothing was identified of the earliest site of the Dobcross Loom Works, but in the area of its later nineteenth-century expansion, the foundation of an
engine house was exposed, which was of the dimensions to accommodate a steam engine likely to date to an early phase, perhaps during the third quarter of the eighteenth century.
To the south of this engine house, the fragmentary remains of a possible boiler house were identified in the area previously occupied by the main chimney of the works. These elements, however, appeared to date to the turn of the
twentieth century.
Actions (login required)