Quartermaine, Jamie (2000) HAW HILL, CARLISLE PARK MORPETH Northumberland Landscape Survey Report. [Client Report] (Unpublished)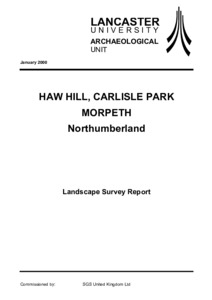 Preview
PDF




completereport.pdf


Download (2MB) | Preview
Abstract
This report describes the findings of an archaeological survey and research undertaken at Haw Hill, locally known as Haw Hill, in Carlisle Park, Morpeth (NZ 1998 8564). The work was undertaken in advance of the proposed landscaping of Carlisle Park, which would include the defoliation and the improvement of access onto the hill. The study area includes the site of a Norman or pre-Norman defensive motte, pre-dating the thirteenth century construction of Morpeth
Castle immediately to the south. A topographic survey was undertaken in December 1999 which recorded the morphology of the mound and recorded the earthwork and man-made enhancements that have been made to the natural hill. A brief campaign of documentary research was also undertaken, in an attempt to set the motte in the context of contemporary national and regional archaeology.
Documentary evidence suggests that it was the site of an early Norman fortification, which may have remained in use until 1216, when King John fired the town and possibly precipitated the removal of the stronghold to the later castle site on the south bank of the Postern Burn. The field
survey revealed that there was an artificial platform on top of the mound which would have served as the foundation for a keep; however, there was no extant surface stone material that would indicate if this was a stone or timber structure.
Actions (login required)