Quartermaine, Jamie (2003) Sutton Bank, Thirsk, North Yorkshire. Archaeological Assessment and Watching Brief Report. [Client Report] (Unpublished)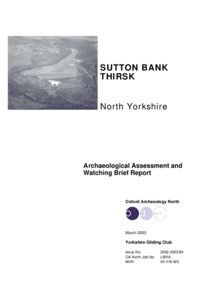 Preview
PDF




L9016_Sutton_Bank_Thirsk.pdf


Download (7MB) | Preview
Abstract
A rapid archaeological assessment and watching brief was undertaken in November 2001 and December 2002 of an area of former forestry to the north of Roulston Scar at Sutton Bank, Thirsk, North Yorkshire (NGR SE 518 825) by Oxford Archaeology North (OA North, formerly Lancaster University Archaeological Unit), on behalf of Yorkshire Gliding Club (Pty) Limited in advance of, and during, the widening of a runway.
The desk-based assessment involved a search of records held by the North York Moors National Park Authority (NYMNPA) office in Helmsley, which holds a copy of the Sites and Monuments Record (SMR), and examined both published and unpublished records and photographs. The desk-based study recorded 28 sites either within or immediately around the study area which are detailed in the Sites Gazetteer (Appendix 3), some of which were visited as part of a walkover survey. The walkover survey also located seven sites where trees had blown over (wind blow sites) and inspected the craters for archaeological features or finds.
The assessment identified a very significant archaeological resource within the environs of the development sites. This included Bronze Age funerary cairns, a promontory hillfort, a Bronze Age / Iron Age territorial boundary system, medieval roads, the site of the Battle of Byland (1322) on or near to the development site, and a white horse constructed on the southerly face of Sutton Bank in 1857.
The watching brief involved the inspection of craters formed when trees were uprooted as part of the ground-levelling process. About 25% of the area was inspected, examining sections covering the north, south, east and west of the development site. The aim of the watching brief was to determine the existence or absence of any archaeological deposits within the specified area.
The archaeological resource in the general area was of considerable importance, but the plantation of the forest in 1955 had caused considerable disturbance to the site, and any monuments or features will have been severely damaged or destroyed as a result. Probably as a consequence, no archaeological features or finds were encountered during the watching brief.
It is recommended that no further archaeological works be implemented, but that care be taken to protect Casten or Cleave Dykes, both at the northern end of the development site, in the course of the groundworks.
Actions (login required)