Newman, Rachel and Quartermaine, Jamie and Scott, Ian (1998) Keekle Head Open Cast Coal Site, Cumbria. Archaeological Survey and Evaluation Report. [Client Report] (Unpublished)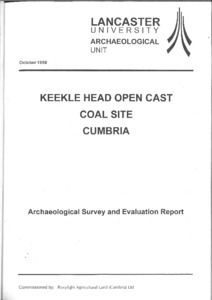 Preview
PDF




REPORT.pdf


Download (6MB) | Preview
Abstract
The Lancaster University Archaeological Unit (LUAU) was commissioned by Roxylight Agricultural Land (Cumbria) Ltd to undertake an archaeological mitigation survey and evaluation in advance of an opencast coal scheme at Keekle Head, Cumbria (NY 034216). This follows on from an earlier archaeological assessment undertaken by LUAU (1998b). The survey was undertaken in advance of the first phase of the opencast development and the archaeological works were accordingly limited to the extent of this phase. The recording minvolved the landscape survey of three mining sites: Venture Pit (Site 22), Keekle Head Mine Shafts (Site 24) and Green Spot water system (Site 08); a fabric survey of Sandbeds Farm and the evaluation of two documented mining sites (Sites 01 and 24) were also undertaken.
The principal mining site was the Venture Pit (Site 22), which was sunk in 1852 by Thomas Hinde. He worked the Venture Pit for only eight years and, in 1860, he leased it to Joseph Ward and others; it was eventually discontinued in 1865. The survey of the Venture Pit revealed a large spoil mound, three areas of localised surface extraction, and a substantial tramway which led to the main Ullock / Pica road. The shaft associated with the large spoil mound was not identified by the present survey and has probably been buried by subsequent spoil deposition.
The survey revealed a water system extending along the slope, to the east of Green Spot farm. It did not lead directly to any of the mining / extraction areas and was probably intended to drain water off the fell and away from mining areas downslope.
The fabric survey of Sandbeds Farm showed that the original farmhouse was largely unchanged from its original construction and was of a 'double pile' building type. Parts of the original roof survived, which included at least one original roughly sawn purlin. The barn was contemporary with the farmhouse, but had been substantially altered in the nineteenth or early twentieth centuries. On the basis of documentary sources, the building layout and construction style, it is considered that the date of the original build was probably some time in the second half of the eighteenth century.
The evaluation trenching of Sites 01 and 24 revealed limited deposits of mining spoil but no associated shafts. As the evaluation did not identify a significant archaeological resource, it is recommended that no further archaeological recording be undertaken in advance of the first phase of the development. It is, however, recommended that a further programme of recording be undertaken on those areas that will be affected by the second phase of the development.
Actions (login required)