Champness, Carl (2011) The Depot and Coachworks, Widbury Hill, Ware, Hertfordshire. [Client Report] (Unpublished)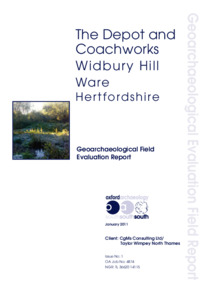 Preview
PDF




WAWDH10.pdfA.pdf


Download (5MB) | Preview
Abstract
In October 2010 Oxford Archaeology South undertook a geoarchaeological field investigation at the former Depot and Coachworks, Widbury, Ware, in Hertfordshire.
The work aimed to map the site's buried palaeotopography and help identify areas of archaeological potential.
Six targeted boreholes were used to ground truth a preliminary deposit model that was generated for the site based on a previous geotechnical investigation. The
model identified the higher elevations of the gravel terrace to the north of the site and lower elevations of the floodplain in the south. A buried channel sequence was
identified to the west, with two possible floodplain islands. A backwater peatdominated
sequence was also identified in the east associated with a lower-energy environment. The floodplain deposits were buried by up to 2m modern make-up deposits.
No significant archaeological deposits were identified within the borehole survey that would indicate a high concentration of activity within the site area. However,
fragments of brick, CBM, charcoal and mortar were recorded at the edge of an area of higher ground within OABH5 which may indicate a focus of activity. This area may
warrant further investigation should the impact of the proposed development extend beyond the made-ground.
The deposit model has successfully confirmed that floodplain sequences of potential archaeological significance survive under the foundations of the work buildings.
Important evidence of early prehistoric activity dating from the Mesolithic to early medieval periods is often found preserved in similar waterlogged environments. However, any archaeology associated with the terrace edge and upper alluvial sequence is likely to have undergone various levels of disturbance and truncation.
Actions (login required)