Phimester, Jane (2011) Adeline Genee Theatre, East Grinstead, Surrey. Project Report. Oxford Archaeological Unit Ltd. (Unpublished)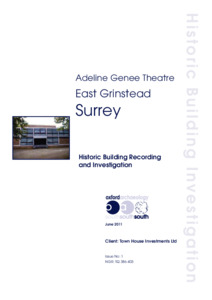 Preview
PDF




EAGAGT_10.pdfA.pdf


Download (8MB) | Preview
Abstract
Oxford Archaeology (OA) was commissioned by Town House Investments Ltd. to undertake a programme of historic building recording of the Adeline Genee Theatre at
Charter Towers near East Grinstead, West Sussex. The theatre is to be demolished to enable the redevelopment of the site as a Continuing Care Retirement Community, and
a recording condition has been placed to mitigate against the loss and to create a record for posterity.
The theatre, which was constructed in 1967 was named after the celebrated dancer Dame Adeline Genee and it was used by the adjacent Bush Davies School for its inhouse shows. Although the school had a very high reputation, being among the best ballet schools in the country, it closed in 1989 together with the theatre, which had been financially insecure from its original construction. The theatre and the
remaining site were purchased and used by a security firm, Sabrewatch. The building remains in good condition with minimal changes from its original function and has
been well maintained.
The focus of the recording work was to complete a photographic record of the building internally and externally prior to the commencement of works. Historic plans were also obtained from the Tanbridge Council archives which were useful in illustrating the functions of areas and rooms. The structure is not protected under statutory designation, nor is it one of the best examples of post-war architecture, it is however of general interest in the history of theatre design.
The initial recording was undertaken in October 2010 but part of the basement was inaccessible at this time due to flooding so further recording of this area was
undertaken in March 2011.
Actions (login required)