Croxson, Nick (2008) Cedars Park, Cheshunt, Hertfordshire. Archaeological Investigation and Recording of Structural Remains. [Client Report] (Unpublished)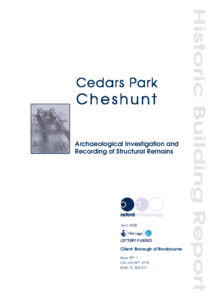 Preview
PDF




BROXCP07.pdf


Available under License Creative Commons Attribution Non-commercial.
Download (16MB) | Preview
Abstract
Oxford Archaeology (OA) have been commissioned by Broxbourne Borough Council to undertake an archaeological investigation into Cedars Park,Cheshunt, Hertfordshire. The main aim of this report is to increase the overall understanding of the site and its archaeological potential in order to assist in the preparation of a Conservation Management Plan. This is intended to inform Broxbourne Borough Council in the development of key plans and tasks to underpin a Heritage Lottery Fund (HLF) Lottery Parks for People Bid for Cedars Park in 2008.
Cedars Park is a 30-acre popular and well-maintained park with two distinct facets: it is an important local resource which is well used and is popular for its facilities, open space, varied habitats, and developing event programme, and it is also the site of a magnificent 16th-century manor house, later to become a royal place known as Theobalds.
This investigation comprises three main elements: historical desk based research, geophysical survey, and building assessment/recording. These stages have followed on
chronologically from each other and the results of each element has informed the other stages of the project.
This work has largely confirmed the current understanding on the former layout of Theobalds Palace. However it has also has been possible to outline the various phases of
occupation on the site now encompassed by Cedars Park.
There is little in the way of above-ground archaeological remains, particularly from the primary palace structure, however there is great potential for buried remains. A geophysics survey carried out as part of this investigation has provided some insight into sub-surface features, although it has been of limited value in confirming which, if any, of the original palace walls survive below ground. Further geophysics however, using alternative techniques, could be targeted on specific areas which hold some potential for good results. In addition to this it is worth noting that certain areas hold high potential for valuable trial trenching, evaluation, and research digs, should this be approved by English Heritage. It is recommended that due to the potential presence of below ground archaeology in certain areas of the park, that any future intrusive ground works be archaeologically monitored.
Actions (login required)