Hughes, Vix Evaluation at Cursey Lane Hardwicke Gloucestershire. [Client Report] (Unpublished)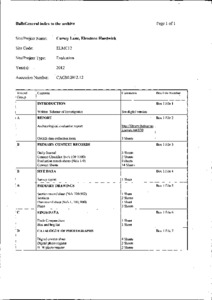 Preview
PDF




ELMC12 Cursey Lane, Elmstone Hardwick_A1b.pdf


Download (3MB) | Preview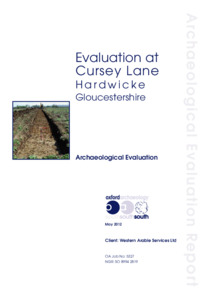 Preview
PDF




ELMC12.pdfA.pdf


Download (5MB) | Preview
Abstract
In April 2012, Oxford Archaeology South undertook a two-stage archaeological
evaluation of land at Cursey Lane, Hardwicke, Gloucestershire.
The first stage comprised a detailed geophysical survey that identified extensive
ridge and furrow cultivation remains and anomalies of possible archaeological origin
that could be targeted during the second phase.
The second phase comprised the excavation of nine trial trenches. No features of
archaeological significance were encountered. This also confirmed the presence of
furrows within the full extent of the evaluation area. Artefacts recovered from these
suggest that they were in use into the post-medieval period. Other possible
archaeological features previously identified generally proved to be absent with the
exception of two thermoremanent (heated/fired) responses within Trenches 6 and 9
and a small, undated pit within Trench 7. The thermoremanent responses proved to
be of recent origin visible as cut features within the ploughsoil.
Several abraded sherds of Roman pottery and a fragment of tegula recovered from
the furrow fills suggest a Roman presence within the vicinity although no features of
this date were encountered. These artefacts may have alternatively arrived at the
site as part of a manuring scatter or through other means of importation.
Actions (login required)