Leech, Stephen (2012) Trial Trenching at Starveall Farm, Claydon, Gloucestershire. Project Report. Oxford Archaeological Unit Ltd. (Unpublished)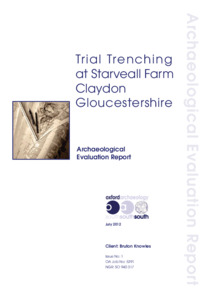 Preview
PDF




CLSTRL12.pdfA.pdf


Download (5MB) | Preview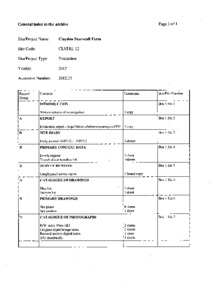 Preview
PDF




CLSTRL 12 Oxenton Staverall Farm_A1b.pdf


Download (4MB) | Preview
Abstract
Between 12th and 18th July 2012 Oxford Archaeology carried out an evaluation by
trenching of the site of a proposed chicken farm at Starveall Farm, Claydon,
Gloucestershire (NGR SO 940 317). The site is an open field currently under
cultivation, with surviving ridge-and-furrow running east-west across it. Six trenches
each 36m long and 1.6m wide were excavated to natural, a 2% sample of the
development area. The trenches were laid out to provide overall coverage of the
area of the proposed development, and also to take account of a magnetometer
survey carried out by Stratascan. This had not found any anomalies definitely of
archaeological origin, but had indicated a number of tentative faint anomalies, which
were crossed by the line of the trenches..
Excavation of the trenches revealed a topsoil underlain by a subsoil, probably
another ploughsoil, overlying the natural. The only archaeological features were the
furrows of ridge-and-furrow cultivation. No finds earlier than the 19th century were
seen.
Actions (login required)