Fletcher, Taleyna (2012) The Old Auction House, Church Street, Saxmundham, Suffolk. [Client Report] (Unpublished)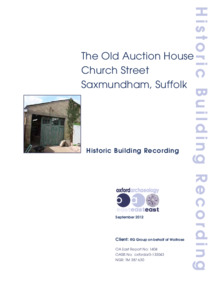 Preview
PDF




Report 1404_LR.pdf


Available under License Creative Commons Attribution Share Alike.
Download (3MB) | Preview
Abstract
On 22nd August 2012, Oxford Archaeology East conducted a historical building survey on the former auction house, Church Street, Saxmundham in advance of alterations scheduled to refurbish the building with the intention of putting it to commercial use.
This work was carried out in response to a Brief issued by Suffolk County Council's Archaeology Service (SCCAS) on behalf of Suffolk Coastal District Council. The brief required that a survey (equivalent to an English Heritage Level 2 Survey) was carried out on the existing building prior to major alterations to the original fabric.
In addition to the auction house, the development site included an adjoining former bakehouse and a small range of single storey buildings located at the rear of the site.
Five main phases of development were noted all ranging between the 19th and mid-late 20th century. Despite the initial assumption that the auction house is 19th century in date, cartographic evidence consulted during the background research has indicated that the auction house was not constructed until after 1927. This is surprising given the overall appearance of the building. Features recorded during the survey of these buildings include remnants of gas lamp fittings in the auction house and an early 20th century steam oven inside the bakehouse.
The auction house was most likely constructed to provide an indoor auction facility for the expanding cattle market located to the immediate east of the site (under the present Waitrose supermarket) which existed until 1977.
Actions (login required)