Clarke, Rachel (2010) Medieval flood deposits, a post-medieval structure and post-medieval ground levelling at the Former Dairy Depot, Austin Street, Kings Lynn. [Client Report] (Submitted)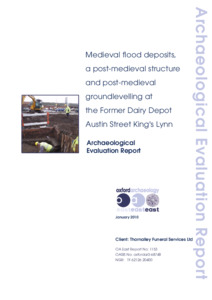 Preview
PDF




Report1153LR.pdf


Available under License Creative Commons Attribution Share Alike.
Download (1MB) | Preview
Abstract
An archaeological evaluation was conducted between 2nd and 10th December 2009 by Oxford Archaeology East at the former Dairy Depot, Austin Street, within the historic core of King's Lynn. A single trench measuring approximately 4m x 4m was excavated within the footprint of a proposed new building, to a depth of c.2m.
The earliest identified deposits appear to be the result of flooding and suggest that this part of King's Lynn, which although situated within the medieval walled town, was located within a low-lying area of marshland. By the 15th/16th centuries reclamation of this marginal area was underway with the dumping of large quantities of soil and general refuse, presumably originating from a variety of sources within the nearby occupied parts of the town. The presence of moderate quantities of pottery, medieval bricks, roof and floor tiles in addition to a fragment of strap end from a book fitting could in part represent demolition from ecclesiastical institutions, perhaps the nearby Austin friary, following the Dissolution. The faunal assemblage includes evidence of industrial waste, perhaps leatherworking, in the vicinity and complements the results from the nearby Lidl site (NHER 31393) adjacent to Norfolk Street.
The sloping nature of many of the dumped deposits, combined with the rapid ingress of water in the lower parts of the trench, suggest that a former fleet or stream may once have flowed nearby. Early maps of the town show a fleet to the west of the site, roughly in the location of what is now Austin Fields. This joined Fisherfleet to the north, and another east-west fleet to the south; a bridged crossing also existed at the junction with Hopmans Way (now Austin Street). By the late 18th century this fleet had disappeared, having presumably been infilled or culverted.
The only clear evidence of occupation on the site comprises the remains of part of an insubstantial timber structure of unknown function and form that probably dates to the 17th or 18th centuries. Intermittent flooding may still have been an issue as further ground levelling continued through the 18th and into the 19th centuries, with no further evidence of structures or associated activity on this part of the site until the 20th century.
Actions (login required)