Fletcher, Taleyna (2011) 18th Century Stables of the former Debden Hall, Debden, Essex. [Client Report] (Submitted)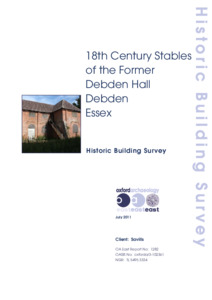 Preview
PDF




Report1282LR.pdf


Available under License Creative Commons Attribution Share Alike.
Download (5MB) | Preview
Abstract
On 9th and 10th June 2011, Oxford Archaeology East conducted a historical building survey at the Grade II listed stables associated with the former Debden Hall (demolished in 1936) in advance of alterations scheduled to be made to convert the site into a residential dwelling.
This work was carried out in response to a brief issued by Essex County Council's Historical Environment Team. The brief required that a survey (equivalent to an English Heritage Level 2 Survey) was carried out on the existing buildings prior to alterations to the original fabric.
Five main phases of development were identified during the survey; construction of the principal stable building with central and end "wings" in the early 18th century, followed by the addition of a cartshed on the north-west side in the mid 18th century; perhaps at the time Debden Hall was re-modelled. There were then alterations in the 19th century, particularly on the first floor, to allow for more storage and living accommodation along with the addition of an external staircase. During the mid 20th century, there were minor alterations including internal subdivision on the ground floor as well as wooden panelling added to one room to create a self-contained living area over two floors in the 1940s. Finally, in the 1960s, two sets of double sliding doors were added on the ground floor and the pillars replaced to create on open-fronted store from the former cartshed, which enabled the storage of larger vehicles as well as the blocking of some windows.
Although no obvious alterations were made during the Second World War, the occupation or use of the stables during this time is an interesting addition to the history of the building. There is evidence on the doors of many of the first-floor rooms for uses including as a post office, gun store and an officer's mess. There is also graffiti on the ground floor which may add to the story of wartime use.
The stable building has a number of original fixtures and fittings as well as many datable features from later phases of alteration. It provides an excellent example of a stable built to accommodate the number of horses required by those living at Debden Hall.
Actions (login required)