Champness, Carl (2011) Old Ford Water Recycling Facility. [Client Report] (Unpublished)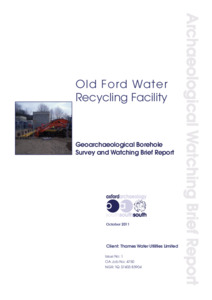 Preview
PDF




OFW10.pdfA.pdf


Download (4MB) | Preview
Abstract
Between July 2010 and February 2011 Oxford Archaeology South (OAS) were
commissioned by Thames Water Utilities Ltd to undertake a geoarchaeological
watching brief and borehole sampling at Old Ford, Stratford, in Greater London. The
Site is located in the Lower Lea Valley, at the edge of the floodplain and immediately
east of the current river channel. The purpose of the work was to provide baseline
data regarding the character of alluvial deposits and assess the potential of the
sediments to contain palaeoenvironmental and archaeological remains. This work
forms part of mitigation strategy associated with the construction of a new water
recycling facility as part of the Olympic Park Development.
Four boreholes were drilled just to the east of Old Ford Lock. A sequence of
Holocene alluvium was recorded overlying Pleistocene gravel and sealed by up to
2m of 19th century fill and modern made-ground. The alluvial sequence consists of
bedded silts, sands and organic clays, representing episodes of overbank flooding
and marine incursions, interspersed with drier periods of increased surface stability
and soil formation. Two potential landsurfaces were identified. The earliest surface
occurs immediately above the Pleistocene gravel at +0.77m OD and may be of early
Holocene date. The second surface, further up the sequence between +1.30-
+1.70m OD, is likely to date to the later prehistoric or Roman period and contained
fired clay, daub, bone and charcoal fragments.
No archaeological features or deposits were identified during the watching brief
associated with these buried landsurfaces. Only a few fragments of animal bones,
fired clay and frequent charcoal were recorded from the upper landsurface. The Site
lies across the river from the historic river crossing at Old Ford and it is possible that
a Roman river crossing is located near to the Site. However, no evidence of any
associated timbers or archaeological features were identified during the watching
brief. The path of the river may therefore have been much further west of its present
course during this period, which may explain the absence of associated features on
the site. However, the upper stabilisation surface was identified at a equivalent
elevation and may reflect drier conditions associated with the effects of Roman
floodplain management and channel modification.
Actions (login required)