Gruszczynski, Jacek and Boothroyd, John 6-7 High Street Oxford. [Client Report] (Unpublished)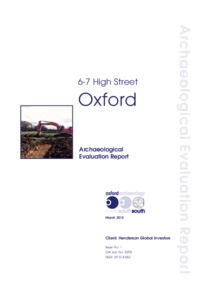 Preview
PDF




OXHIGH 12 (EV).pdfA.pdf


Download (2MB) | Preview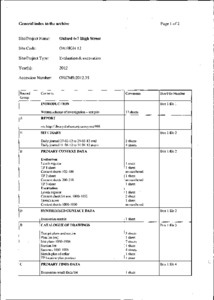 Preview
PDF




OXHIGH 12 Oxford 6-7 High Street_A1b.pdf


Download (7MB) | Preview

Preview
PDF




OXHIGH 12 (EX)_pdfA.pdf


Download (3MB) | Preview
Abstract
Evaluation
In February 2012, Oxford Archaeology (OA) carried out a test pit evaluation in the
basement of 6-7 High Street Oxford (NGR SP 514 062). The work was
commissioned by Stride Treglown on behalf of Henderson Global Investors.
The evaluation revealed an archaeological horizon directly below the rubble
levelling for the existing concrete slab floor, approximately 0.3m below the floor
surface.
Exposed archaeological features comprised a number of pits containing domestic
waste and demolition material, as well as possibly being related to animal
processing. Part of a Saxon loomweight was also recovered. The remains indicated
occupation from the Saxon to early post-medieval period.
Excavation
In June 2012, Oxford Archaeology undertook an archaeological excavation in the
basement of 6-7 High Street, Oxford. An area of 2.55m x 2.30m was excavated and
provided evidence of Saxon, medieval and post-medieval archaeological deposits.
A possible late Saxon cellar pit was recorded which had been truncated by later pits.
Charred remains associated with the cellar pit were carbon dated to the late 8th-9th
Century.
A series of medieval pits and two wells were also present, dating to the early
medieval period. One of the two wells appears to have remained in use for a
considerable period of time and was finally backfilled in the period AD 1620-1650.
Actions (login required)