Simmonds, Andrew A421 Improvements: M1 Junction 13 to Bedford. [Client Report] (Unpublished)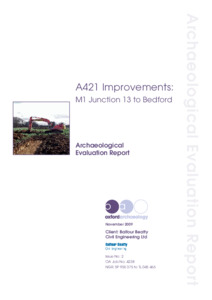 Preview
PDF




A421BD08.pdf


Download (13MB) | Preview
Abstract
During November 2008 Oxford Archaeology carried out an archaeological field
evaluation on behalf of Balfour Beatty Civil Engineering Ltd along the proposed
route of the A421 Improvements: M1 Junction 13 to Bedford, between NGR SP 955
375 and TL 045 465.
The evaluation has identified ten areas of archaeological remains. Six of these
(Trench 48; Trench 54; Trenches 59-61; Trenches 91-2; Trenches 97-100; Trenches
114-120) are interpreted on the basis of the range of features and finds recorded as
being possible settlement sites of late Iron Age or Roman date. Two further areas,
where groups of ditches of uncertain date were recorded, may represent field
boundaries forming part of a contemporary rural landscape. This pattern is
consistent with the general picture established for rural areas of Bedfordshire during
the late Iron Age and Roman period, which consists of small settlements
interspersed with areas of fields.
Only one of these sites, that in Area 7 (Trenches 114-120), has been identified as
continuing in use into the later part of the Roman period. This subsequent decline in
the number of settlements in relation to the late Iron Age/early Roman period may
be attributed to the adoption of a less dispersed settlement pattern, with settlement
becoming focused on villa estates.
During the medieval period settlement became more nucleated, and this is
demonstrated in the case of the current project by the limitation of remains of this
period to a small area east of Lower End Farm, approximately defined by trenches
31, 34, 37 and 38. These remains form part of the deserted medieval village of
Lower End, which extends into the development corridor at this location. The
ubiquitous presence of furrows resulting from ridge and furrow cultivation indicates
that much of the area encompassed by the scheme was farmland during this period.
Actions (login required)